| | |
| --- | --- |
| | TESTED PRODUCTS |
PROTECT Your MODEM or Other Telephone Equipment Equipment From Lightning Damage*! There is an Answer!


THE OPTELATOR
Isolates you with a 5" fiber optic link!
The Optelator eliminates voltage differential between the demark telephone company P.O.T.S. line and the modem earth ground. The Optelator eliminates damaging voltage differentials that may come in via your telephone line while meeting all IEEE requirements. It uses a 5" fiber optic link that is spread between two PC boards which can withstand up to a 75000 volt arc. See photo below.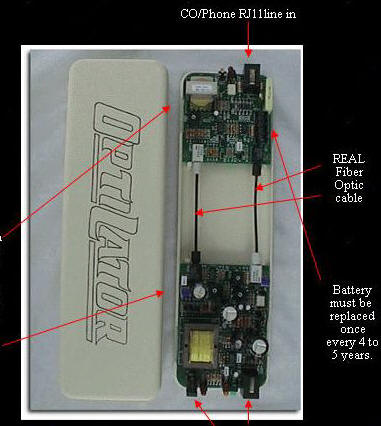 *The Optelator is designed to eliminate phone line ground loops and to prevent direct strikes by lightning from entering your modem or phone equipment. There is no product that will give you 100% effective protection against direct strikes by lightning that may come through the phone line.

Please feel free to email or call us for more information - email tel: 305-215-0524

LIST PRICE $389.00
PET PRICE: $309
(Plus 20.00 shipping)
We accept all major credit cards and Paypal. If you do not have a Paypal account and you wish to pay by credit card, please make sure at checkout to select the button that says 'If you do not currently have a PayPal account' . Signing up for a Paypal account is now optional.